Have you ever seen the old commercials for diversified financial services company J.G. Wentworth? The TV advertisements became a notable reference for many people, centered around the somewhat amusing tagline of "It's my money, and I need it now!" Perhaps it was a memorable commercial because the actors were randomly shouting this statement out their apartment and car windows, something that would be very strange to come across in your day-to-day life.
Well, our receivables financing and commercial lending solutions at The Commercial Finance Group resonate with getting the money that you need as quickly as possible. While we lend to businesses of varying sizes as opposed to individuals, we know that many businesses on the market desperately need the sufficient funds required to accommodate for their rapidly expanding business. So in this case (with no copyright infringement intended), you can think our message as something along the lines of "It's your business, and you need funding now!"
To get you the funding that your developing company needs for a variety of operational purposes, our account receivables financing company specializes in merchant cash advance loans to get you capital in a fraction of the time that conventional banks would otherwise take. In one of many educational posts about our business practice, we're going to take a look at some of the advantages and disadvantages of merchant cash advance loans as they relate to helping finance your small or medium-sized business.
What It Is and How It Can Help
Typically, a merchant cash advance loan serves as a quick source of short-term financing for a small business merchant who has an immediate and pressing need for cash. Usually, most advances (and associated fees) are repaid within six to 12 months.
With merchant cash advances, the primary requirement is that you must make daily credit card transactions for a variety of reasons, including proving your revenue and cash flow. 'Merchant cash advances' simply refers to advances on capital for retail, restaurant and service companies, which we've had plenty of experience working with and helping over the years.
Depending on the amount, extent, and circumstances of a particular merchant cash advance, additional conditions may apply, including $2,500 to $5,000 monthly credit card billings, which may be higher depending on the amount of the advance, and proof of four months of credit card sale history at the minimum.
Numerous Advantages
If your company meets the conditions and criteria to qualify for a merchant cash advance, then you'll be looking at some great benefits. Right off the bat, unlike a traditional bank loan, there's no fixed monthly payment, no interest rate, and no specific payoff date, which means that the cash advance is flexible to work with your company's financial situation.
With a merchant cash advance, there's also no collateral requirement, meaning that in the event that the merchant's business fails for whatever reason, and full restitution for the advance is not made, the business owners' assets are not at risk, unlike in the case of a bank loan. If a merchant's business fails and the cash advance is not paid, there is no legal liability for the owner, making it a low-risk situation.
When a business owner is consistently repaying the cash advance after it stimulates their cash flow, for instance, the repayment is automatically facilitated based on the merchant's credit card transactions. This helps to eliminate any possibility of late charges from overlooked due dates that are known to occur with traditional bank cash loans – something that any small to medium-size business owner would appreciate.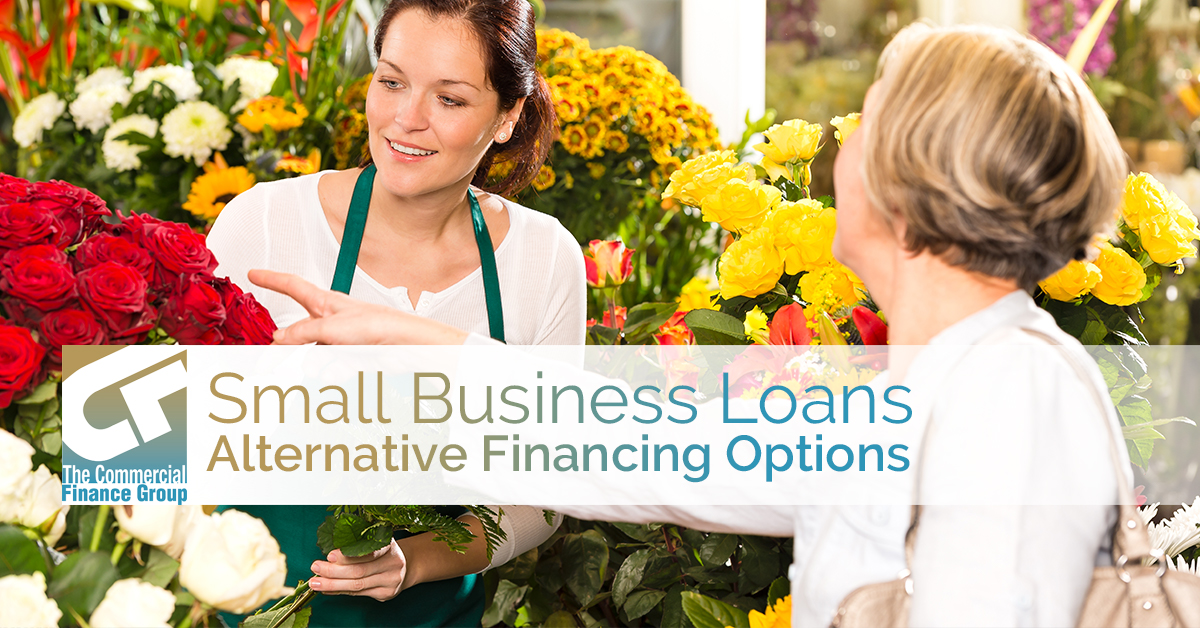 Additional Advantages
But wait – there's more good news to merchant cash advances. With a merchant cash advance, you'll have almost instantaneous access to funding, as most advances are typically made within a good 24 to 48 hours. In the context of a bank cash loan, this turnaround time is virtually unheard of.
The Commercial Finance Group takes pride in improving the health of your cash flow, and merchant cash advances will help you with this. If your sales are slow for a given month, you'll still end up paying less to the lending company due to the fact that they collect only a set percentage of monthly sales (without any minimum amount required).
Who has time to go through endless paperwork, especially as a busy owner of a small business? In most cases, merchant cash advances involve minimal paperwork, so you have more time to get the funding you need and move on to important, day-to-day operational concerns. Overall, you'll find that merchant cash advances are a novel, useful alternative to bank lending that's difficult to get in the first place.
The Downsides
Like most things in life, there is a catch to merchant cash advances that make them considerably more costly than traditional financing. Merchant cash advances are not technically considered 'loans,' but rather, they're concerned with the purchase and sale of future income.
This means that the advance never lasts more than a year, and firms administering the financing are required to follow certain regulations on interest rates that traditional bank lenders are otherwise required to follow. The impact that the lack of regulation has on your lending experience depends on the credibility, experience, and trustworthiness of the lending company in question.
It is recommended to pay close attention to a cash advance contract because many of these contracts actually prohibit switching credit card processors. What this means is that if for some reason you are dissatisfied with your credit card processor, you are stuck with them until the advance is repaid in full. This is something important to keep in mind when looking down the road into the future of your business and its financial health. Lastly, encouraging your customers to pay in cash in order to avoid a percentage of their sales from going to the firm that lent out the merchant cash advance can and likely will be flagged as a 'breach of contract,' and could result in litigation or other serious consequences.
We Can Help Find The Best Financing Solution For Your Situation
There is no one-size-fits-all lending option for businesses, but merchant cash advances and receivables financing solutions have been proven to help countless businesses achieve and exceed their desired growth, manage rapid growth, and balance cash flow situations into a healthy state.
We don't expect you to be experts about what lending options are best for your situation, but fortunately, we offer expert services to help you determine what's most beneficial for you and your business, both now and in the long-term. Our experienced and trusted team of financial professionals is here to help you with our Atlanta, Los Angeles, and Burbank locations, so contact us today with your questions and take that next step to achieving the success that you and your business deserve!