More Than 40 Years of Crafting
Working Capital Solutions
Strength and Stability
Founded in 1974, CFG yields more than 40 years of experience in providing working capital solutions to clients who are unable to obtain adequate bank financing. The foundation of financial strength we have built has allowed us to flourish in the credit-restricted small business lending environment that has existed since the financial crisis of 2008.
During our four decades in business, CFG has developed a sound approach to our business model that has enabled us to maintain steady performance and facilitated solid growth. Among our Senior Management, operations, and sales staff, we have more than 250 years of combined experience in the asset-based lending industry.
CFG's experience, and our diverse and flexible approach to small business lending, has enabled us to provide alternative financing solutions to fit the needs of many types of companies' needs.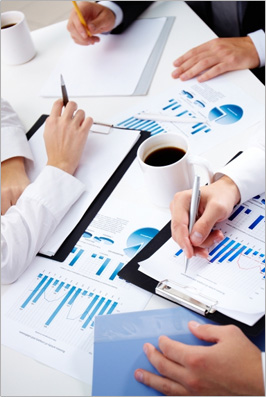 Whom We Serve
We work with companies in the B2B sector with annual revenues ranging from $250,000 to $40,000,000. We offer a wide range of working capital financing solutions that are suitable for small to medium-sized companies in every stage of their development, including:
Accounts receivable financing (A/R Lines)

Purchase order (PO) financing
Factoring, including recourse, non-recourse, full-notification, and non-notification

Complete A/R management programs
Asset-based lending lines of credit (A/R and Inventory)

In Transit Finance
sherpa
2018-04-10T12:57:03+00:00
An industrial service business in Philadelphia recently entered into a factoring arrangement with a well-established factor because it was in need of short-term working capital assistance and decided on a factoring arrangement instead of a traditional line of credit. Since the business's customers are of high credit quality, factoring was [...]
sherpa
2015-08-12T02:31:18+00:00
A small business consultant met with a couple who owned a safety products and supply distributorship, who had asked him for help in cleaning up their books. The consultant soon realized there was an accounting issue that had created a significant tax problem. The business was viable, though, and new [...]
sherpa
2015-08-12T02:33:45+00:00
"We first got involved with CFG after our banker told us we had become "unbankable". He told us he knew of a company that could probably help us and that is when we were introduced to Tracy Eden. From the very beginning you could tell Tracy was honest. He told [...]
sherpa
2018-04-10T12:57:03+00:00
When it first started out in the late 1990s, a janitorial services company in Arizona quickly realized that the payment terms of its corporate and government customers weren't going to sync up with its expenses — payroll, vendors, equipment, and supplies. "We had to pay all these expenses while waiting [...]
sherpa
2015-08-12T02:28:32+00:00
Temporary and IT placement firms, security companies, janitorial service providers, and translators are a few examples of service industry firms that are relying more on accounts receivable (A/R) financing. CFG has been providing A/R financing to a translation services provider in Canada since 2010. The owner of the translation company [...]
sherpa
2015-08-12T02:38:05+00:00
"We were having cash flow issues, needed additional working capital and were not able to secure additional credit through our bank. As a result, our banker referred us to CFG. We had talked with other factoring sources in the past, but were leery of the structure and relationship. However, CFG [...]