More Than 40 Years of Crafting
Working Capital Solutions
Strength and Stability
Founded in 1974, CFG yields more than 40 years of experience in providing working capital solutions to clients who are unable to obtain adequate bank financing. The foundation of financial strength we have built has allowed us to flourish in the credit-restricted small business lending environment that has existed since the financial crisis of 2008.
During our four decades in business, CFG has developed a sound approach to our business model that has enabled us to maintain steady performance and facilitated solid growth. Among our Senior Management, operations, and sales staff, we have more than 250 years of combined experience in the asset-based lending industry.
CFG's experience, and our diverse and flexible approach to small business lending, has enabled us to provide alternative financing solutions to fit the needs of many types of companies' needs. From Los Angeles / Burbank to Atlanta and everywhere in between, we provide our lending solutions across the United States and Canada.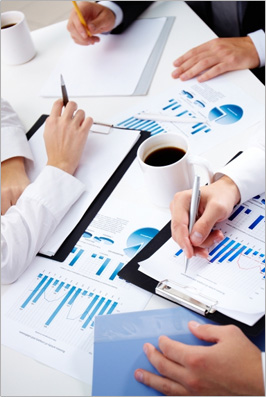 Whom We Serve
We work with companies in the B2B sector with annual revenues ranging from $250,000 to $40,000,000. We offer a wide range of working capital financing solutions that are suitable for small to medium-sized companies in every stage of their development, including:
Accounts receivable financing (A/R Lines)

Purchase order (PO) financing
Factoring, including recourse, non-recourse, full-notification, and non-notification

Complete A/R management programs
Asset-based lending lines of credit (A/R and Inventory)

In Transit Finance
"First of all, CFG was there for me and my company during a very difficult time in our history. They jumped into the fire with me!  My company had come off some large losses in South Florida and not bankable through traditional banking channels. I was able to bring my CFG manager up to speed very quickly in order for him to get his head around our challenges and needs. He was able to put in place a 2.5 M ABL line to get us through our cash flow challenges and ultimately through recovery and acquisition with a PE firm.

We were with CFG for approx. 1.5 years and now with a traditional bank with a 10.5 M LOC. Needless to say,  I would have not made it without the CFG team's help, flexibility and creative financing understanding of our business. I can recommend the folks at CFG without hesitation."
A fraternity brother of mine was aware I was having some financial issues and referred me to his banker. I explained my situation to him and he said he knew of a company that could probably help me. So he set up an introductory meeting with Tracy Eden. I was immediately impressed by his professionalism and his ability to understand the gravity of where we were at the time; due the fact I had waited to the last minute to seek financial help.

The transition to CFG went very well. I was impressed at how quickly CFG was able to take things over and get our financial issues in order. Everything has been going great since! I have nothing but positive things to say. In fact, I have suggested that one of my customers use CFG as well. They have already been in touch with Sal Trupiano.

Thanks to CFG I can now pay my suppliers within their terms, my stress has been greatly reduced by not having to wait on payments from my customers and I can focus on the day-to-day operations of my business rather than all the financial matters that prevented me from doing such before signing on with CFG.
I first heard of CFG from a brochure I received in the mail. I wanted more information so I called and spoke with Tracy Eden. I was impressed by his professionalism, how thoroughly he explained the factoring process, and the fact he was upfront with me as to whether or not he could help me.

However, after the conversation I wasn't sure that factoring was the right option for me so I chose to take out a working capital loan instead. I quickly realized that was a mistake and about 7 months later I got back in touch with Tracy.

I have been with CFG for a little over 6 months now and everything is going great. The transition to CFG was smooth, the staff is very friendly and easy to work with which made the transition even easier.

Tracy has been very helpful with my business. I like the fact that I have the ability to call &/or meet with him when necessary.

I'm very happy to be with CFG!
Since we were too new of a company to get the line of credit we needed, my banker referred us to Jeff Dunbar at CFG. I was very impressed with Jeff. He was able to clearly explain the factoring process and answer all of my questions.

The transition process was very smooth. I was extremely pleased with how fast it went and how easy it is to work with CFG. Everything has been going great since. CFG has helped me immensely with my company growth. They have given me the cash flow I need to allow for that company growth.

I love that the cash flow is at my fingertips whether I need to make a purchase, make payroll or whatever…it's there!
"We have been with CFG almost 2 years now. Our banker referred us to them.

The transition process to CFG went extremely well, and during the Due Diligence process, they worked with us to help facilitate a much needed transaction.

The staff is very professional and extremely knowledgeable.

We enjoy having the ability to work directly with the decision makers and the fact that they are always available to help us when we need it."
"We were having cash flow issues, needed additional working capital and were not able to secure additional credit through our bank. As a result, our banker referred us to CFG. We had talked with other factoring sources in the past, but were leery of the structure and relationship. However, CFG came highly recommended to us by our banker. Our banker even participated in the initial meeting with CFG and not only helped us to attain a comfort level with them, but similarly our banker helped CFG attain a comfort level with us."
"We have been with CFG for a year now and the relationship has worked exactly as proposed. CFG has not only supported funding our agreed upon credit line, but they have engaged with us on new proposals and helped identify funding sources for new programs, whether it come direct from CFG or from a source recommended by them."
"We have been impressed with the customer service from all levels of the organization throughout our relationship with CFG. CFG is a true business partner and we value the relationship."
"The operating relationship has been outstanding as well. However, from an owner perspective, we value more the collaboration, insight, and recommendations that CFG has provided to help the overall bottom line and becoming bankable again. CFG is truly in it to get out of it. We understand that eventually CFG will no longer be a credit source for us, but we hope to still maintain that relationship beyond the end of our agreement."
sherpa
2018-04-10T12:57:03-04:00
An industrial service business in Philadelphia recently entered into a factoring arrangement with a well-established factor because it was in need of short-term working capital assistance and decided on a factoring arrangement instead of a traditional line of credit. Since the business's customers are of high credit quality, factoring was [...]
sherpa
2015-08-12T02:31:18-04:00
A small business consultant met with a couple who owned a safety products and supply distributorship, who had asked him for help in cleaning up their books. The consultant soon realized there was an accounting issue that had created a significant tax problem. The business was viable, though, and new [...]
sherpa
2018-06-14T09:33:02-04:00
"We first got involved with CFG after our banker told us we had become "unbankable". He told us he knew of a company that could probably help us and that is when we were introduced to Tracy Eden. From the very beginning you could tell Tracy was honest. He told [...]
sherpa
2018-04-10T12:57:03-04:00
When it first started out in the late 1990s, a janitorial services company in Arizona quickly realized that the payment terms of its corporate and government customers weren't going to sync up with its expenses — payroll, vendors, equipment, and supplies. "We had to pay all these expenses while waiting [...]
sherpa
2015-08-12T02:28:32-04:00
Temporary and IT placement firms, security companies, janitorial service providers, and translators are a few examples of service industry firms that are relying more on accounts receivable (A/R) financing. CFG has been providing A/R financing to a translation services provider in Canada since 2010. The owner of the translation company [...]
sherpa
2015-08-12T02:38:05-04:00
"We were having cash flow issues, needed additional working capital and were not able to secure additional credit through our bank. As a result, our banker referred us to CFG. We had talked with other factoring sources in the past, but were leery of the structure and relationship. However, CFG [...]