Since the advent of Amazon and other ecommerce platform giants, consumers have turned to the internet to buy a number of things — or really, to purchase just about anything that their heart desires. Shopping online has a number of benefits for both the shopper and the business owner: no required social interaction and fewer overhead costs, for instance.
Whether you've expanded your brick and mortar retail store into an online business or scrapped your physical business altogether in place of a simple website, your business needs are all the same when it comes to financing daily operations: you'll need working capital in the way of a small business loan.
Loans For All Types Of Businesses
Fortunately, The Commercial Finance Group specializes in providing asset-based loans from our Atlanta and Los Angeles-based offices. With our combined decades of SMB lending experience, our factoring company has helped countless businesses grow. This is something that we pride ourselves on. Our client testimonials and success stories capture our ever-burning desire to help small-to-medium-sized companies grow.
Establishing An Ecommerce Niche
If you've considered expanding your business into the ecomm sphere, it may be a great move for your company. Finding the right ecommerce niche to help your company establish its presence within your industry is advantageous in multiple ways:
It's less expensive

: generally speaking, you'll have cheaper marketing costs accompanied by less operational resources.

You'll have better profits

: customers are willing to pay more for a niche product that they're already searching for. This also leads to dedicated brand loyalty, and overall, better ROI for you as a business owner.

Streamlined organization

: by sticking to a particular niche, you can easily organize your products without hiring additional staff to manage them. You'll also have better relationships with your suppliers.
Looking forward into 2019, here are some of the top trending ecommerce niches for the year:
Survival Gear
Though we can't exactly peg when an all-consuming apocalypse will rain down on earth, the data shows that survival or "prepper" gear is a growing market online. This niche industry is not oversaturated at this point, and there are many opportunities for different products to sell within this niche: survival backpacks, multipurpose tools, water purification systems, dehydrated foods, knives, rugged footwear, lighters, headlamps/flashlights, and so forth.

Subscription Boxes
People don't mind paying more for something than what it actually costs if it's presented in a well-designed box and shipped straight to their front door. Subscription boxes also offer a fun "surprise factor" because shoppers may not know exactly what they're getting, but they still have a good enough idea that they'll willing to hit "go to checkout" on your website.
You could even find a niche within subscription boxes that touches on multiple niches: a survival gear goodie bag, for example.
DIY-Kits
As it turns out, the do-it-yourself market is currently exploding. With projections to reach an estimated value of nearly 14 billion dollars by 2021, it's probably worth getting your foot in the door of this seemingly ambiguous niche industry before it's too late.
Our invoice factoring company specializes in providing small business loans, so we're not necessarily business intelligence analysts and can't explain why the DIY market is growing so rapidly. This may have something to do with the fact that people enjoy the sense of satisfaction and self-gratification that comes with assembling something on their own. They're just lazy about finding the individual pieces, so it only makes sense that everything that they need is sent to them in one, convenient package — think of something along the lines of a mail order cooking business like HelloFresh™ or HomeChef.
Whatever the reason is behind the DIY boom, people just love making something whole out of separate components.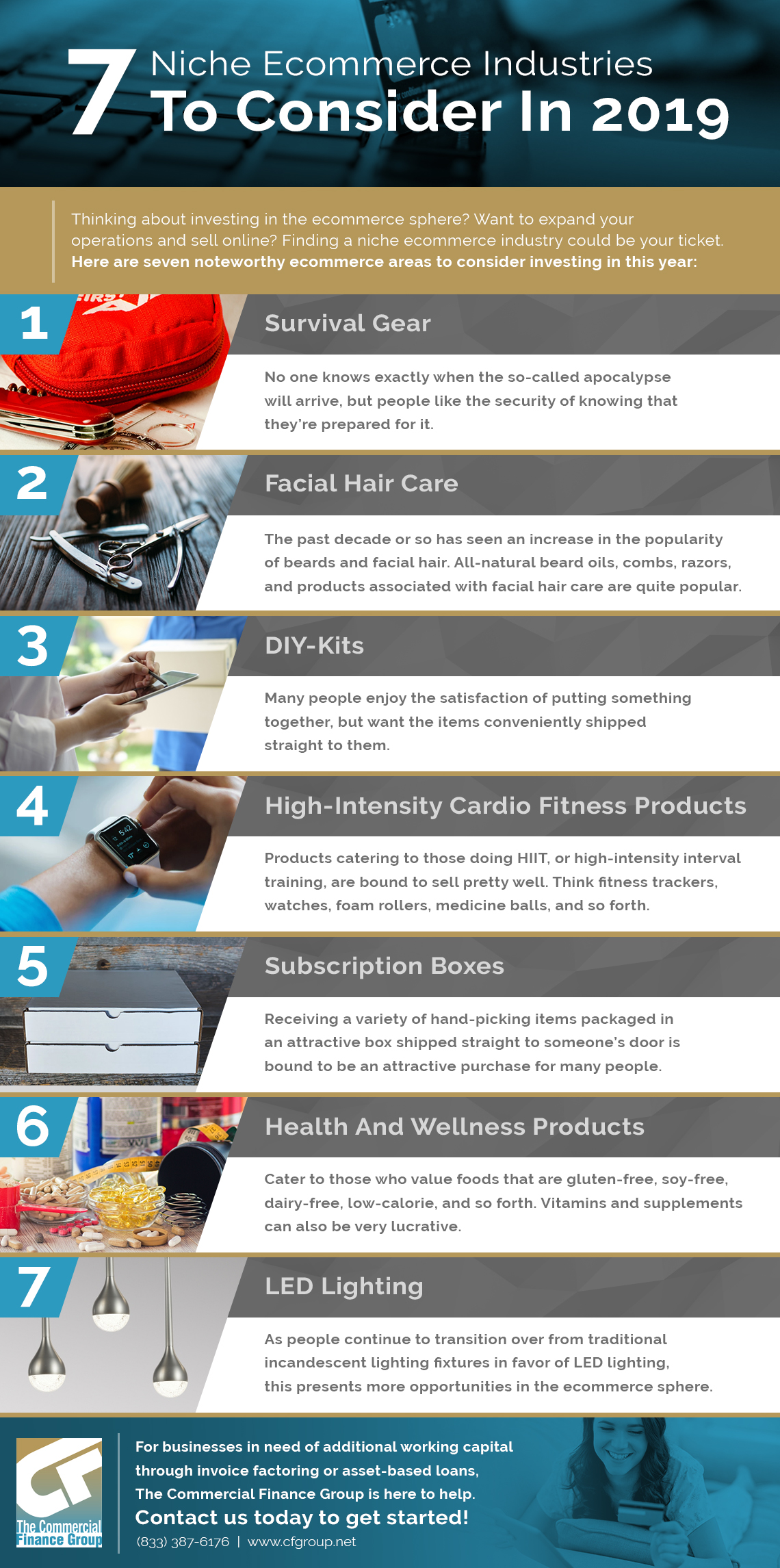 Health And Wellness Products
Gluten-free, soy-free, sugar-free, "Whole 30 Friendly", and low-calorie are all healthy buzzwords worth capitalizing on. From specialty teas to selling vitamins and supplements online, this has always been a fairly profitable ecommerce niche to operate in.
Your Source For Working Capital: Our Invoice Factoring Company
Our passion lies in helping grow your entrepreneurial talents and ideas, ecommerce or otherwise. If you need additional working capital to finance expansion or other business ventures, please get in contact with The Commercial Finance Group.